Born in England


The Damme family originally lived in Nautwick, Cheshire County, England, from about the time of King Edward IV. Their home was called "Red Hall Farm", and today one of the farm hills is called "Damme's Croft".



The Plight of the Pilgrims


In the early 1600s, many Christians in England did not agree with the rites and practices of the Church of England. Some felt the Church was anti-christian and withdrew entirely from the services, subsequently wandering throughout Europe. These people were called Pilgrims. Others did not want to leave the Church, but felt compelled to purify it, and so were called Puritans.

The Puritans were the religious fundamentalists of their day - no smoking, drinking, or swearing was allowed. Originally, they wanted to "purify" the Church and get rid of the rampant corruption, but by the mid-1600s, many realized that venture was hopeless. Even so, their children gravitated to other religions, and Puritans quickly all but died out. The Puritan quest for religious purity meant "zero tolerance" for other religions throughout New England. Anyone not willing to bow to Puritan demands was jailed, punished, and deported. Not attending church was an crime, resulting in stiff fines and banishment. "Religious Freedom" was a one-way concept. Today, there are very few Puritans left.

The Pilgrims started various churches, but were persecuted, prevented from getting jobs, and many were imprisoned. A group of Pilgrims went to Holland, where they heard there was religious freedom and a chance to make a living. The English ports were closed to them at this time, so they left in secret. This meant paying exorbitant prices for passage; many of them were betrayed to the authorities who confiscated all their belongings and threw entire families in jail. Others, however, successfully arrived in Holland. John Damme's family was among this group.

Once in Holland, while they were permitted religious freedom, they were not permitted to work. They did not know the language or customs of their hosts. The Pilgrims were primarily farmers and livestock breeders, but soon found themselves impoverished and destitute. As more people arrived from England, however, the Pilgrim population grew, and eventually some of them assimilated into the local economy.

Many others, however, realized they were working hard and getting nowhere. Many men were aging more rapidly than normal because of hard labor conditions. The Dutch were preparing to go to war with Spain, and the young men were concerned about being drafted into service. If the Spanish prevailed, everyone risked being captured and imprisoned.

When the Pilgrims considered crossing a violent and unpredictable ocean of three thousand miles and ending up in a land dominated by hostile natives and unseen perils, they determined the prospect to be an improvement over their current condition. And so began the migration to the New World.



The New World


Dover, NH, was first explored in 1603 by Martin Pring. In 1614, John Smith, of Pocahontas fame, toured the area and wrote about it, igniting English interest. The area was inhabited by Algonquian Indians who called it Wecannachohunt or Wecohamet. King James granted a charter in 1620 to "forty men of note" to populate and settle New England. The most recognized of these settlements was Plymouth Rock.

New Hampshire was considered part of Massachusetts during this time. Dover was the first permanent settlement in the area later known as New Hampshire. New Hampshire officially became the third colony in 1679.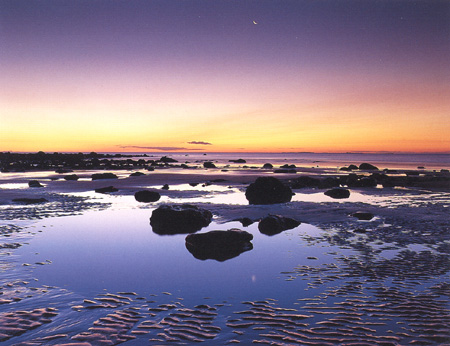 Sunrise on the New Hampshire coast near Dover
Came to America with Capt Wiggin


Seeing an opportunity for wealth-building and real estate development, several Bristol businessmen obtained Dover property. One of these was Capt. Thomas Wiggin. The group appointed Wiggin to acquire potential settlers and make land deals.

Wiggin had personally checked out the area and, apparently quite a hustler, convinced people to leave their familiar homes for the colonial wilderness. Many people sold their possessions to raise money for the trip.

The ship "James", although relatively small, carried one hundred passengers (Pilgrims and Puritans), with horses, cattle, goats, and a supply of provisions. John Damme was a "joiner" - the old term for finishing carpenter - and Capt. Wiggin realized that he would be a valuable asset to a new settlement. To ensure the settlement would be successful, no one with a criminal past was allowed on this voyage.

Capt Wiggin and his passengers left Gravesend on the west of England, and landed at Salem MA on 13 Oct 1633. The journey took about 8 weeks. After replenishing their provisions and disembarking those who didn't want to go on, 30 passengers sailed up the coast and landed at Hilton Point. There was no town or civilization and they had a rough life, clearing forests and building log houses. The following year more settlers arrived, but the hardest work had been done by this first group.

They called the town 'Bristol', but a few years later, Massachusetts government arbitrarily changed the town name to 'Dover'.



John's Personality


John Damme was a successful business man, had grants of land and timber, and part interest in a sawmill at Belle-Man's Bank falls. At one point, he was one of the largest taxpayers in town. He assisted in organizing the First Parish Church. He didn't hold any office or serve any official town function, but was regarded as a respected and substantial citizen.

When the time came to assign land plots, John was granted his share. He then traded what he had for another, inherited a second soon after, and then bought a third, ending up with 3 contiguous lots.





The site of the first Dover Parish Church lies along the Dover Point Road.





Elected Deacon of the First Church


When John was 60, he was elected the second deacon of the First Parish Church. He had been an assistant for the church for many years. The first deacon was his neighbor, John Hall.

The First Parish Church was the main building at the time, and was used for various official activities, such as town meeting house, housing for homeless, center for trading with Indians, courthouse, and the place where many significant political documents were signed. It was also used as a church on Sundays.

Indian Attacks


Relations with the natives were cordial in the early days. When a respected chief died, bigotry was the rule, and Governor Waldron was the worst of the bunch. Wohawa (aka Hope Hood), the son of the chief, instigated raids against the whites, recruiting other tribes in his quest. The worst raid, known as the Cocheco Massacre, occurred on Jun 27-28 1689, in which 23 people were killed (including Gov Waldron), and 29 people were captured and sold into slavery in Canada. One quarter of the residents of Dover were gone. It has been reported by some as a random attack after "50 years of peaceful co-existence between the Penacook tribe and European colonists". In reality, Indian attacks were frequent and motivated by revenge. The raids eventually ended around 1724.

Six months before this battle, Indians attacked a group of settlers, killing John Damme and his son-in-law, Joseph Canney. John was 89 years old. John's son, William, lived on land next to the Indian settlement and yet was not a target. However, William was nervous and kept a guard around his house during these times.

John is buried in an unmarked grave in Pine Hill Cemetery with both his wives.