Roots


The Folsom history in America has been well-documented. John and Mary are the ancestors of all Folsoms in early American, except for one family found in South Carolina (according to John Chapman in his definitive work "A Genealogy of the Folsom Family").

John and Mary were married in Hingham, England. They left England aboard the ship "Diligent" on 26 Apr 1638 with 18 other families from the area. They were headed for Hingham, Massachusetts, already occupied by 10 families from this area of England, their friends and neighbors. John and Mary were both 23 years old, and had been married over a year. She was expecting her first child. They were accompanied by their 2 servants, and her parents and siblings. John's 2 brothers made the voyage years later, joining him in America, but eventually returned to England. John Folsom continued to hold land near Foulsham in Norfolk for many years after settling in the English colony. John, who died in Exeter in 1681 deeded to his son Peter "forty or fifty acres of land in Hingham in ye county of Norfolk (England) near Norrald Comon and formerly held by ye name of Ffulsham at ye Boxbushes."

Their parish rector, Rev. Robert Peck, modified the church building, "pulled down the rails of chancel and altar, and levelled the latter a foot below the church, as it remains to this day." The Bishop was not amused and prosecuted Rev. Peck. To avoid punishment, the reverend sold his property at half-price, and left England with his family and servants, accompanied by those in his parish who sided with him. In 1641, the Bishop was deposed and Rev. Peck returned to England, vindicated. By this time, the Folsoms were established in the New World and did not follow their rector.

Mary reportedly had her child (John) at sea before they reached the New World. John died, however, an infant. John and Mary later had 8 more children.

The good ship "Diligent" landed in Boston on 10 Aug 1638, ending a voyage of 3 months and 15 days. Everyone immediately headed for Hingham, Masshusetts.

John and Mary had a farm, as was common in those days, to provide food for their family and a source of income from crop sales. John was involved in local politics, being appointed selectman at one time, "to order the prudential affairs of the town". He also built and ran a sawmill.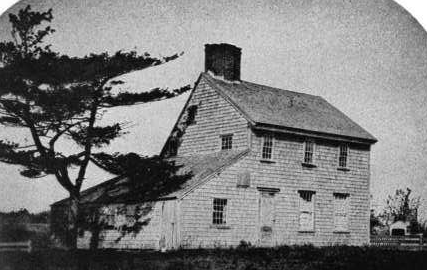 Home of John & Mary Folsom, 1645, Hingham, MA, USA



About 1645, Governor Winthrop and his magistrates appointed as captain for the Hingham militia, Anthony Eames. The citizens of Hingham objected, stating their rights as freeborn Englishmen were being violated. They did not like Eames, a surrogate of the government, but demanded Bozoan Allen be named militia captain. The magistrates fined the protestors, to compel them to appear in court or be jailed. Many of them were jailed because they refused to pay the fine. Charges were laid against Gov. Winthrop for "assumption of power and illegal imprisonment." The governor was eventually acquitted, and fines totalling £155.5 were imposed on about 90 people. John Folsom's share was £20, but he must have been exempted as he did not pay the fine nor was he censured.

John and Mary had enough of local politics, however, and soon moved to Exeter, New Hampshire, where Mary's parents had settled earlier. There, John and Mary prospered and flourished. John again was involved in local politics, but managed to avoid any major confrontations.


Legacy


John and Mary have many famous descendents, including California pioneer and New Hampshire native Joseph Libbey Folsom (for which Folsom, California, Folsom Street in San Francisco, Folsom Prison are named) and General Nathaniel Folsom, who represented New Hampshire in the Continental Congress. One branch of the family integrated with the Choctaw Indians of Oklahoma, from which descended Col. David Folsom, a chief negotiator between the Indians and Andrew Jackson. Beautiful Frances Folsom married President Grover Cleveland, and Folsom, New Mexico (of archeological fame) was named for her.

Col. Samuel Folsom ran the Folsom Public House and Inn in Exeter, NH, which was visited by Gen. George Washington on 4 Nov 1789. This tavern still stands today on the corner of Front and Water Streets.



The Folsom Family Name


At one time in England, surnames were commonly taken from the name of the town. A person known as John of Foulsham would thence be known as John Foulsham. Foulsham was a village located in Norfolk County, England, about 7 miles north of Hingham. Undoubtedly, the Folsoms originally came from Foulsham before settling in Hingham. The original Foulsham records, however, were lost when the old church was destroyed by fire in the 1700s, preventing us from tracing our ancestry further back. Our ancestors left Foulsham for Hingham centuries before that.





Map of Foulsham-Hingham vicinity, England



The original meaning was "Fowl's Home" or "Fouls Hame" in old English. "Hame" was commonly pronounced "um" in those days, which accounts for the phonetic spelling in use today. It was probably named for a bird breeding area or market.

The morphing from Foulsham to Folsom occurred over the years, with many versions. Some people used various spellings within their own lifetime, other occurrences were mis-spellings, a clerk's mistake. Today, all families use "Folsom" as the default spelling. Some forms of the name found in the past are:


Ffulsham
Foulsam
Foulsham
Foulshame
Fullsham
Fullsom
Fulsham